Timber Workshops by Passmores: Learn how to create your own space
Timber workshop garages are strong and versatile – the perfect place for an imagination to run wild.
From the outside, our garages are simplicity in its greatest form. They're elegant and stylish and made from sustainable timber from ethically managed forests in Northern Sweden.
Crafted by our talented carpenters at our Kent manufacturing centre, Passmores timber workshops can be so much more than just a place to park your car.
Available in prefab kit format, or assembled by our team, it's your choice. Their interior can provide a blank canvas to whatever form of inspiration you can muster. Whether it's a small single or large double workshop, or an oak-fronted carriage house with a workshop attached, there are so many possibilities. Here are some ideas:
Classic car maintenance

Tool storage

Man cave

DIY workshop

Home gym

Woodwork studio

Artist's space
Whatever you call it, one thing remains the same and that's the structure on the outside – the humble wooden garage.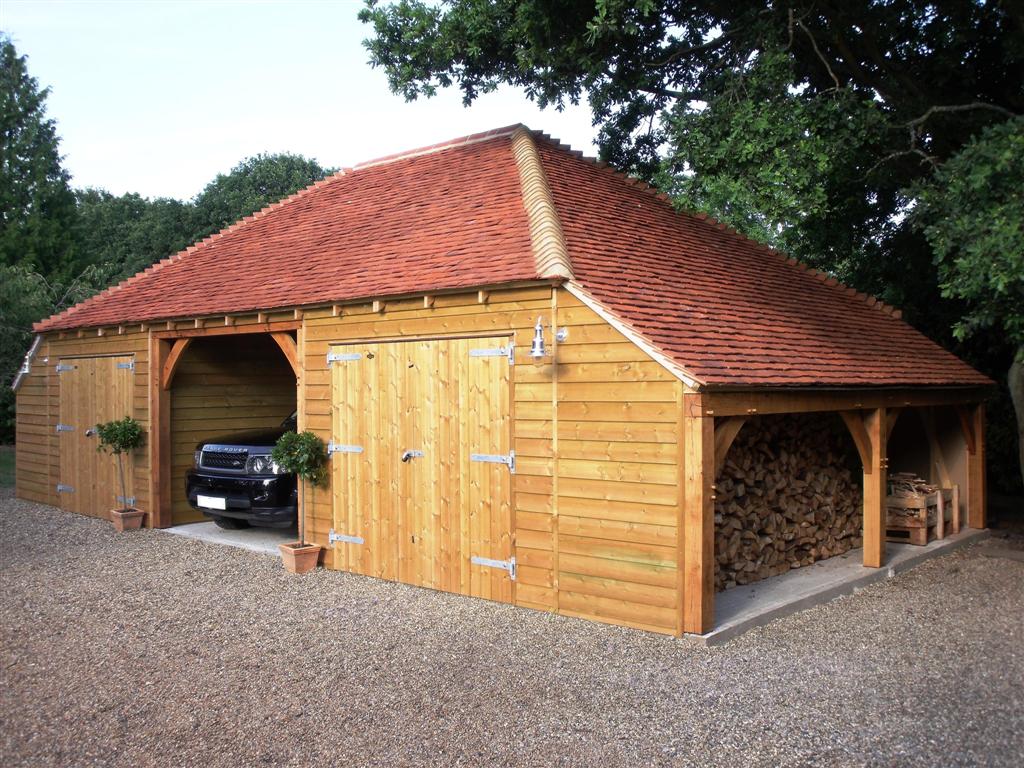 Workshop Garage Styles
Looking for some design inspiration? Check out our workshop garage gallery here.
As a place to shield your car from the harsh winter elements, a one-bay, two-bay (left) or three-bay oak-fronted Carriage House is ideal.
For better weather-proofing and additional security, we can make sure it's fully enclosed.
We can fit barn doors to the oak entrance frames and turn it into a full-blown garage workshop – a place where your creativity can flourish.
Our customers use their timber garages in many different ways
Classic car storage and maintenance workshop
For classic car and vintage motorbike owners, wooden garages are the perfect spot for tinkering around with engines.
They offer a condensation free environment, a safe haven to protect timeless motors from the winter elements and British rain.
Storing your classic car in a Passmores timber garage will keep your valuable asset safe and protected from harsh weather and extreme temperatures.
Tool storage and DIY Workshop
Garage workshops are also fantastic places for storing tools and using as a place for DIY and repairs.
Garage wall storage can be maximised through the use of vertical storage systems, cabinets, pegboards and other shelving units.
The benefits of vertical wall storage is the space it frees up on the floor.
What better to do with that space than to install a workbench for carpentry, metalwork or other repairs and for storing large, bulky power tools?
Timber workshop for general storage
If DIY isn't what you do, then timber garages are great for storing those bulky items that need a home, such as:
Lawnmowers and other garden machinery

Bicycles

Go-karts

Boats

Skis

Quad bikes

Surf or paddle boards.
And if you've got too much to cram into the floor space, there is plenty of space between the roof rafters for lightweight storage.
The 'man cave' W

orkshop
Why not turn your wooden garage or carriage house into the ultimate mancave?
Everyone, no matter what gender, can benefit from an escape from the stresses and strains of everyday life, especially in uncertain times.
What better place to have your retreat than on your doorstep inside your own timber garage?
No mancave is complete without the following, all of which can easily be housed within your garage shell.
Music system

Hobby table

Television

Comfy chair/sofa

Gym equipment

Books

Games

Fridge
How easy is it to construct a Passmores timber workshop?
Our team of skilled site erectors can assemble your garage at a competitive price or, if you would prefer, you can opt for one of our popular self-assembly kits and do it yourself. Every workshop is prefabricated in the UK at our manufacturing in Strood.
If your DIY skills aren't up to the job however, you could get your local builder to do it instead.
We will provide you with a foundation drawing when you place your order to help you make sure that the ground is properly prepared and the base ready for your garage before we deliver.
If you are assembling the building yourself we will provide you with a detailed packing list and comprehensive erecting instructions.
Check out our frequently asked questions for more information.
Is planning permission required for a garage workshop?
This is dependent on factors like the size, height and location of your wooden garage.
If you want to position it near a boundary or in front of the building line of your home, you will probably need planning permission.
If you're putting it behind your house, more than two metres away from a boundary and its ridge is not higher than four metres, then you may not need planning consent especially if it is not to be used for business purposes.
Check out the government's planning portal www.planningportal.gov.uk for more information.
What size garage workshop should I choose?
On this page, we've attempted to give you some ideas of what you can do with your wooden garage. Now it's up to you what style and size to choose.
Our traditional free-standing wooden garages are available in 30 standard sizes so it's good to have an idea of the type of workshop you want to create before buying your product. Passmores can accommodate most requests so don't be afraid to tell us all the features you'd like your ideal garage to have, even if you think it's not possible.
How much do Passmores timber workshops cost?
We have a huge range of sizes and styles, and prices will depend on the working area you need and the preferred layout.
For instance, do you need:
a single, double or triple bay?

feature oak front?

extra space for a log store?

internal partitioning to create additional compartments?
For help with choosing the right wooden garage or carriage house for your workshop, take a look at our timber garage buying guide here.
For our price guide and brochure click here or give our timber garage calculator a go. Here you can design your own building and get an instant quote online.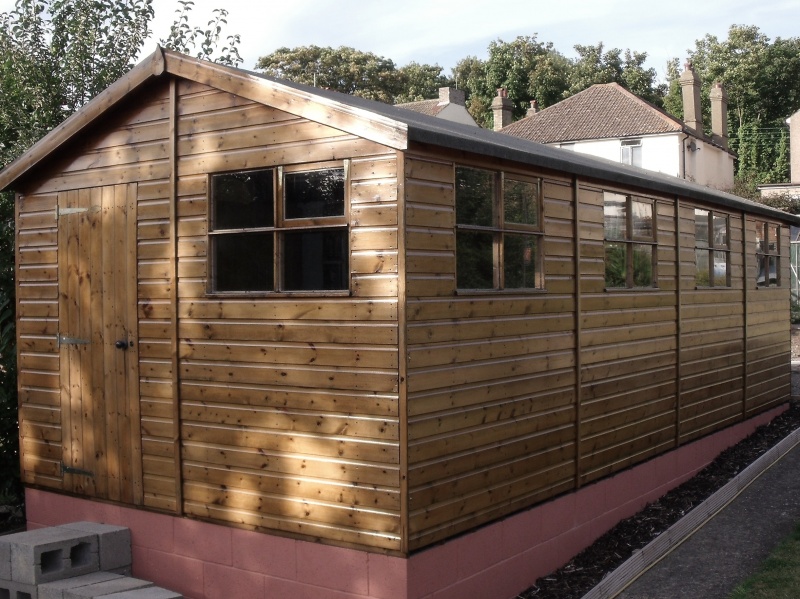 Passmores - Trusted timber buildings for more than 100 years
Passmores is a tried and trusted timber building company, a family firm that's been in British manufacturing since 1909.
Our buildings are made with sustainable timber from environmentally-managed forests in Northern Sweden.
Our FSC® Chain of Custody Certification is your guarantee of our environmental credentials.
We're pleasing the planet and customers while creating beautiful outhouses from natural, sustainable material.
This is the right place for your timber garage workshop. Contact our experts now at [email protected] or call 01634 290033.