Why choose a timber garage for your home?
Buying a timber garage is an investment decision and as such, it's important to have all the facts at your disposal before making your choice.
Timber is a natural product and the only truly sustainable construction material on the planet. Timber buildings are robust, condensation-free, attractive to look at and an ideal place to store valuable assets. They are regularly purchased by classic car enthusiasts across the UK and Europe.
In terms of value for money, you can't beat them. Timber garages are significantly cheaper than brick, block or oak framed ones and are great to look at. They are also prefabricated which means you can avoid the high cost of custom work (see our guide to prefabricated garages) but still benefit from stunning design.
We've compiled this guide to help answer the most common questions we get asked about our range of timber garages. We hope you find it useful and that it helps provide the information you need to feel comfortable with your choice.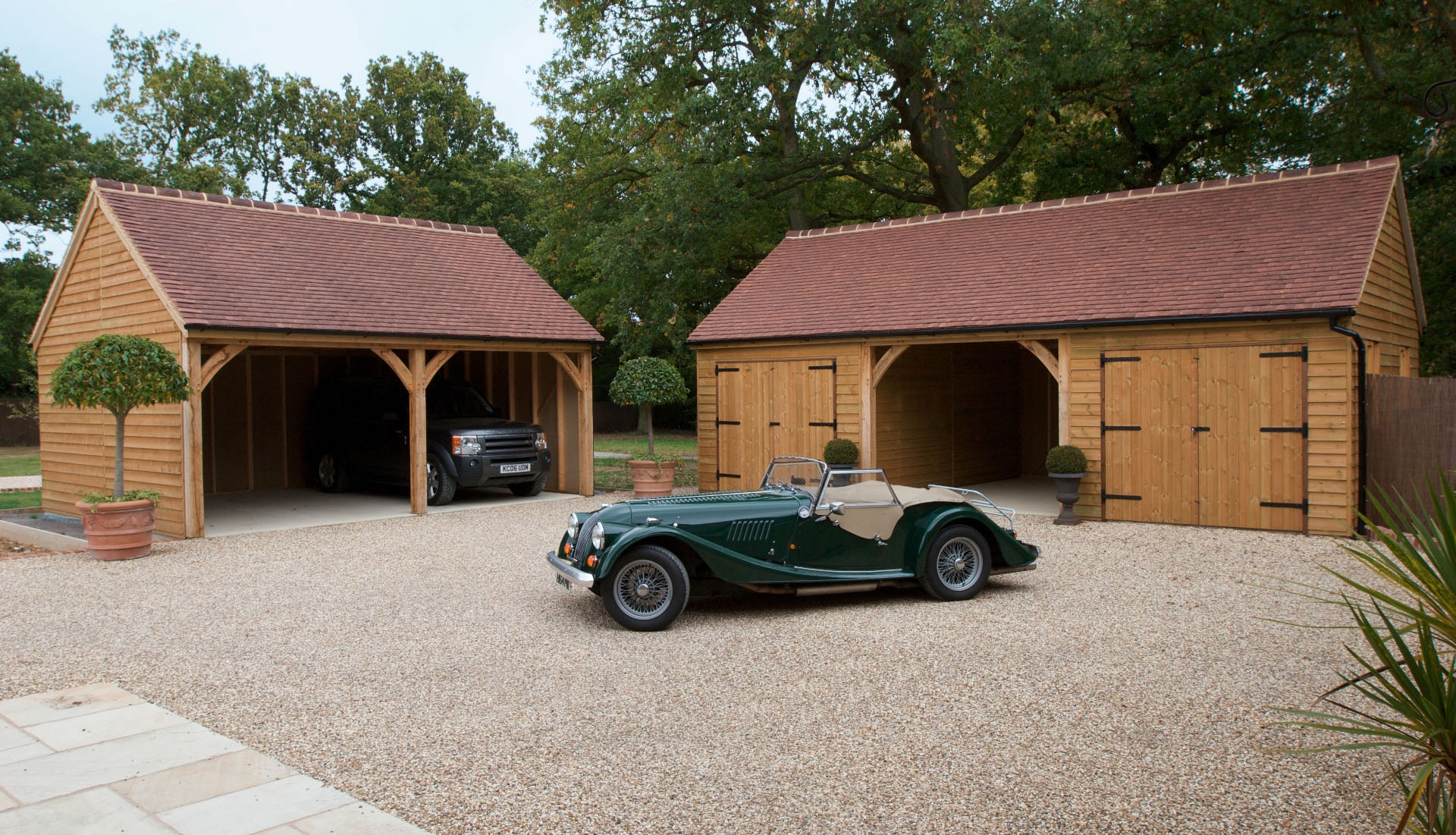 How much does a timber garage cost?
Our wooden garages are an affordably priced alternative to brick or concrete block garages.
Prices for a single wooden garage at Passmores start at £3,013 with boarded and felted roof. For a large, double garage, complete with assembly service and tiled roof, the price is between £8,000 and £13,000 depending on location, the options chosen and the type of roof tile specified. In comparison, a similar sized unit in brickwork or fully oak framed is likely to cost three times as much.
For Passmores timber garage pricing and brochures click here or try our Timber Garage Calculator where you can design your own and get an instant online quotation.
Do I need planning permission for my timber garage?
Generally speaking, single storey timber garages don't need planning permission if they're less than four metres high (and less than two-and-a-half metres high at the eaves). These garages may be built under 'permitted development' as long as they're also two metres' away from the property boundary and are not in front of the principle elevation of the house. They should also not occupy more than 50% of the garden space alongside other outbuildings.
If you can't meet this criteria or if your property is listed or in a designated area like a national park, then you're likely to need to apply for planning permission. You'll also need building regulations approval if your garage is over 15m² and less than a metre away from the property boundary, or more than 30m² in area.
We recommend that all our customers know what local authority permissions they will require before proceeding with their timber garage purchase. Passmores can offer support with planning and building regulation queries and our in-house draftsmen can produce technical drawings for your application if so desired. If you'd like to use this service, please visit planningportal.co.uk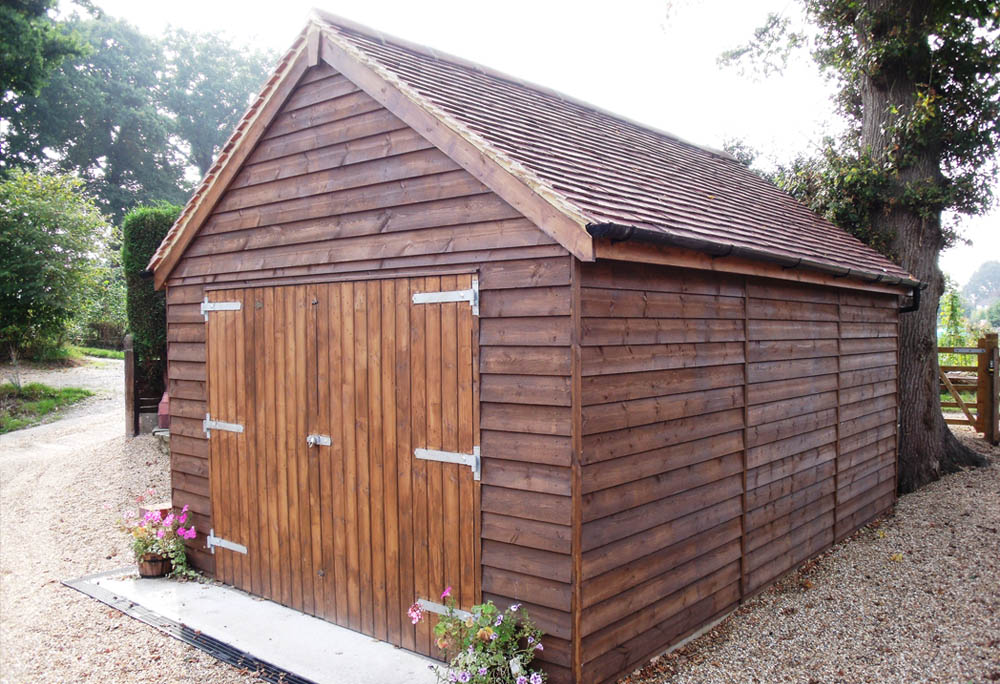 What garage styles and choices are available?
Garages can be constructed as single, double, triple or even quadruple vehicle accommodation. Doors can be positioned in the gable end of the building or in the side.
Garages usually come with a choice of roof options (like we offer at Passmores). You can opt for either a 22° pitch traditional boarded and high-performance felted finish, or a steeper pitch trussed rafter roof that's ready to take slates, tiles or cedar shingles.
Passmores offers a professional erecting service that's available if you live within a 150-mile radius of our factory in Strood in Kent. We also offer a quality, reliable roof tiling service within many areas of the UK.
Garage doors can either be traditional timber side hung or metal up-and-over doors. Timber garages can also be built with personal doors for side access and windows to provide natural light.
If you're after something that's more than a straight-forward room for your vehicle, it is possible to combine a timber garage with a workshop or garden room. You may want more vehicle accommodation or have an ambitious design in mind. Whatever it is you have in mind, the garage manufacturer should be able to accommodate your requirements.
At Passmores, we ask that you send us a sketch of your proposed layout so we can establish whether we can help with your customisation and if we can, provide an appropriate quotation.
If you are in need of some inspiration, why not view our timber garage gallery? If you're looking for something with an open front them you can also view our Open Barn gallery here.
Choosing the right size for your garage
Standard timber garages that we offer at Passmores start at 4.8m x 3.0m and go up to 7.2m x 7.2m. If your requirement is for a larger building or a non-standard layout please talk to us. While our designs are modular, we can usually get close to what's required.
When planning your project, try to allow at least 1m space around the garage for maintenance. Don't forget that buildings close to a boundary or living accommodation may be problematic if you need to obtain local authority planning and building regulations approvals.
There's a huge range of styles and different sizes of timber garages available but it's all about choosing the one that's right for your particular space and needs. Having this choice is what makes timber garages such excellent, multi-functional buildings for a property.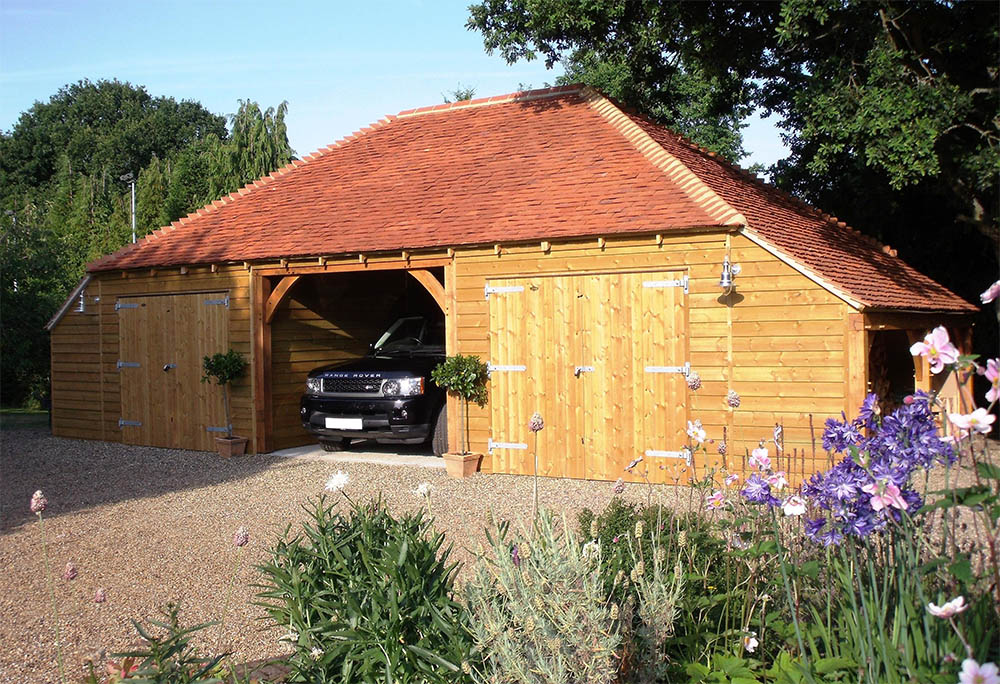 How versatile are your timber garages?
The obvious answer is just that – as a garage. But these are versatile buildings and can be used for a wide variety of purposes. Before you decide on the size, style and layout it's worth thinking about how you will use the space.
As well as vehicle storage, it may be worth considering whether you want additional areas for tools, a workbench, shelving or wall cupboards. These are useful for storing items for both DIY and vehicle maintenance tasks, or even just as overspill from the house. You might want your timber garage to act as a dedicated workshop or even as a posh garden shed to house the mower and other garden tools.
What site preparation is required?
A solid base for your timber garage is essential and we recommend a reinforced concrete raft foundation finishing 150mm above ground level, to the exact dimensions of the building.
Most customers use a local building contractor to install their garages. However, the construction of a simple foundation that suits a small timber garage is usually within the capability of people with DIY building skills.
We recommend that you independently check the base for levels and dimensional accuracy long before delivery is due should any remedial work be needed. The foundation needs to be ready at least a week before delivery.
In some cases an alternative design may be necessary or it may be possible to re-use an existing foundation. If you are planning to do this, it is important to discuss this with us first as we may need to modify the building accordingly.
Passmores will provide a detailed, dimensioned foundation drawing when you place your garage order with us.
Can I see one of your timber garages before I buy?
If you decide to buy a timber garage from Passmores, we have more than 35 wooden buildings on display at our showground village including examples of tiled and felt roofed timber garages.
We have informed staff on hand to answer your timber garage queries and are open 9.00am – 5.30pm, Monday to Friday, and 9.00am – 1.00pm on Saturdays.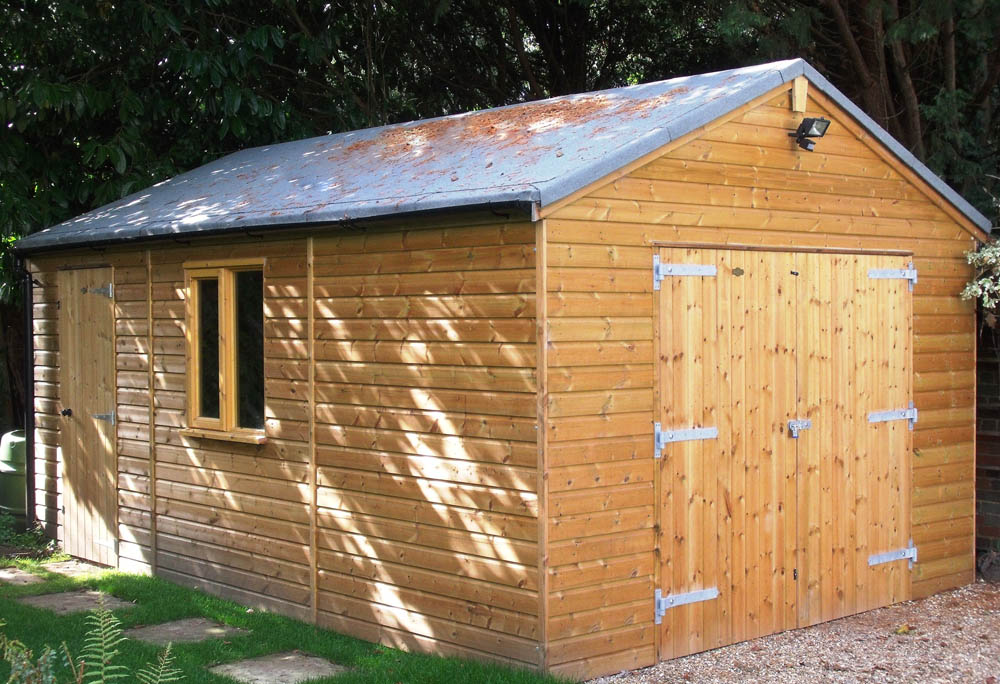 What happens on the delivery day for my garage?
If you've taken advantage of our professional erecting service, we will assemble your timber garage on the day of delivery. If you have asked us to tile or slate the building, this service will follow a few days later.
In general, we deliver using 7.5 tonne rigid lorries and we will need to get our vehicle within 20m of your foundation. Components are heavy and staff will need a clear, unobstructed route to the base. If you think that this may not be possible, or that there are other site access issues such as poor ground conditions, please discuss this with Passmores first so that we can agree how best to get round the problem. We may ask you to send us photos of the site access. If necessary, we are able to bring additional staff or a 4WD vehicle to overcome most site issues.
Please arrange to meet us on site when we arrive to discuss access and also to be around when we finish to inspect the building and pay any balance that's due.
If you have chosen to buy one of opur build your own timber garage kits for self-assembly, we will deliver to the nearest convenient point to your foundation. The driver is likely to be on his own so please provide him with assistance to unload.
Our self-assembly garage kits come complete with an itemised packing list and comprehensive erecting instructions. We are able to offer telephone assistance if something is not clear, so please don't hesitate to phone.
If you are not erecting your timber garage kit immediately, then we recommend that it is stacked on bearers and covered with a tarpaulin to protect it against weather damage.
Looking after your new timber garage
All the external wood of Passmores' timber garages are treated with a long life preservative and will require only a small amount of maintenance.
The external cladding will gradually fade to a silver grey colour. If you wish to restore or enhance the appearance of the building we recommend the use of a good quality spirit-based wood preservative such as Sadolin Classic Wood Protection, following the manufacturer's recommendations.
We recommend that locks and hinges are checked for operation at least once a year and lubricated as necessary. If you have timber side hung or timber personal doors, using the turnbuttons fitted at the top and bottom will prevent the door from distorting as it expands and contracts with the changing seasons.
Vegetation should be kept away from your timber garage and gutters should be regularly cleaned. If you have purchased your garage from Passmores, please refer any warranty issues to us and we will deal with these promptly and fairly.
Helping you make the right choice
Since 1909, Passmores has supplied thousands of satisfied customers with our range of high quality wooden garages, made from sustainably sourced timber and using designs that have been refined and improved over the years.
All our buildings are manufactured by our skilled production team based at the Passmores Garages workshop in Rochester, Kent. We are proud to offer premium quality, British products to our customers.
As well as timber garages, our comprehensive range of timber buildings includes oak-fronted carriage houses, open barns, sports pavilions, equestrian buildings, garden sheds and workshops.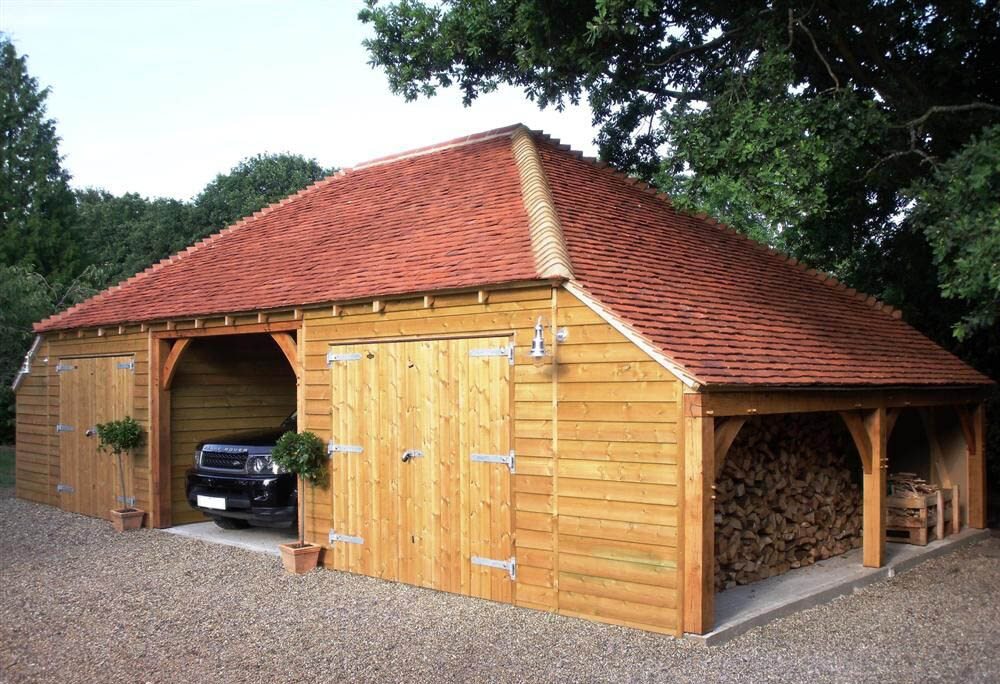 Why buy my timber garage from Passmores?
When you come to make your purchasing decision, we hope that you'll buy your timber garage from Passmores for the following reasons:
Experience
We've been around for 111 years and counting. We know what we are doing. Learn more about the Passmores story here.
Quality Materials & Craftsmanship
We only use high quality, slow-grown timber from environmentally-managed forests in Northern Sweden. Components are assembled by our skilled manufacturing team under the personal supervision of the production director and quality checked before despatch. We aim get it right first time, every time.
Design Expertise
Our buildings look great. That's because we pay attention to detail from the way the components fit together like clockwork to the classic finish of our traditionally jointed and pegged oak frames.
Sustainability
Our long-standing arrangement with an FSC® certified sawmill in Sweden ensures that our timber comes from sustainably managed forests. This is your guarantee of our environmental standards. Passmores are one of the few timber buildings manufacturers to have achieved FSC® Chain of Custody certification in our own right – look for our FSC® products.
Value
You may find a cheaper building elsewhere but comparing like for like, you won't get better value than a Passmores timber garage.
Satisfaction
We have thousands of satisfied customers all over the UK and further afield – read our testimonials and Google reviews.